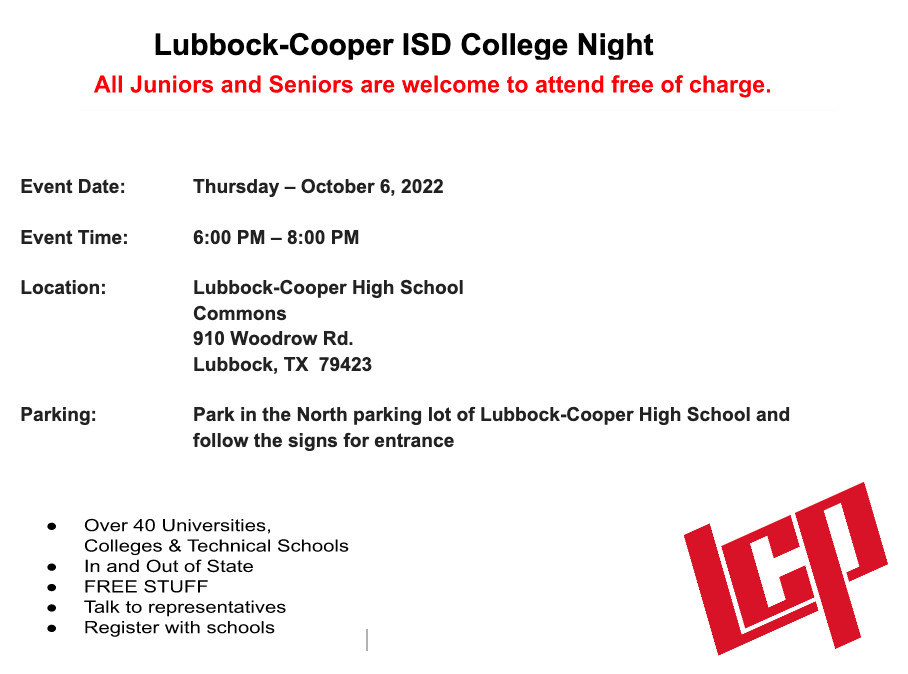 2023 Senior Folder Information
Senior Info: College, Career & Military
Welcome 2023 Seniors!!
If you would like to REQUEST A TRANSCRIPT, please email hsregistrars@lcisd.net. Include your name, DOB, the year you graduated (or will graduate) as well as name and address of school, scholarship program or other entity. Transcripts are $1.00 each and can be paid with cash or check (current seniors receive first transcript free). Graduated students must provide valid identification and transcripts will not be released to family members.
What you can find on this page:
Financial Aid (Scholarships, FAFSA, & TASFA)

Senior Appointments and Checklist

College Information and Events

ACT & SAT

Military Contacts
Beginning with the 2021-2022 school year ALL seniors in Texas must complete a FAFSA or TASFA in order to graduate from high school. Students who do not fill out a FAFSA/TASFA will have to turn in an opt out form signed by a guardian.
FAFSA/TASFA - Opens October 1, 2022
The FAFSA is opening on OCTOBER 1, 2022. Every student regardless of financial situation should fill out a FAFSA, see below for more information.
The FAFSA (Free Application for Federal Student Aid) is a federal form that provides grant and loan money to students based on EFC (Estimated Family Contribution). BUT why fill it out if you won't use or qualify for federal funds...a lot of schools and scholarship organizations require the FAFSA before they will disburse money and award letters to students because they want to see their EFC. Even if you don't receive federal funds for college it is a good idea for ALL students to fill out a FAFSA. Federal funds are awarded on a first come, first serve basis by colleges so it is important to fill the FAFSA out early and send it to schools you have applied to or might attend. The priority deadline for Texas schools is January 15th. www.fafsa.ed.gov
*Beginning in 2021-2022 every senior, regardless of financial situation, will be required to fill out a FAFSA or TASFA per Texas law.
TASFA
The TASFA (Texas Application for State Financial Aid) is for foreign students or non-citizens who may be eligible to be classified as a Texas resident for tuition purposes. If so, you may also be eligible to receive state financial aid.
https://www.finaid.txstate.edu/more-info/TASFA.html
*Beginning in 2021-2022 every senior, regardless of financial situation, will be required to fill out a FAFSA, TASFA or an opt-out form per Texas law.
CSS (College Scholarship Service) Profile
Some colleges will also require a CSS profile - click here to find out if your college is one of them.
FAFSA Links:
I filled out FAFSA...what now?
College Information and Events
Second Annual Lubbock-Cooper College Fair - October 6, 2023, HS Commons, 6-8 pm

FAFSA/TASFA Night - October 18, 2022, Lubbock-Cooper Central Office, 6-8 pm
ACT & SAT
Make sure to include our school code when signing up for the ACT or SAT. 444340
ACT - students can register to take the ACT at www.act.org
ACT dates provided at Lubbock-Cooper: October 23, December 11, April 2, & June 11
SAT - students can register to take the SAT at www.collegeboard.org
SAT dates provided at Lubbock-Cooper: November 6, December 4, May 7, & June 4
FREE ACT or SAT - Texas House Bill 3 will now provide reimbursement for one free ACT or SAT (or TSI) in the spring of a student's junior year or any time during a student's senior year. TEA will pay for the basic exam for ACT or SAT, they will not cover additional portions of the exam such as writing. They will not pay for late fees. If a student takes more than one exam, TEA will pay for the highest cost exam between ACT, SAT, or TSIA. Students can receive reimbursement by submitting a receipt to Kristy Jimenez at Lubbock-Cooper High School or students may use their one free test on the SAT in the School Day in the spring.
Fee Waivers - students on free or reduced lunch can receive 2 fee waivers for each test in addition to the free HB3 reimbursement. Please see Kristy Jimenez in the Counseling Center for more information.
ACT/SAT Prep Referrals: Sylvan Learning Center, Huntington Learning Center, CLC Collegeprep Services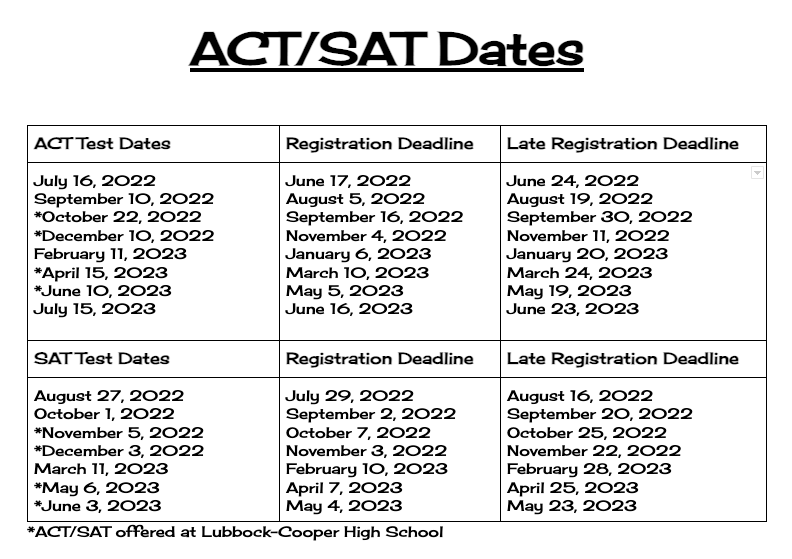 Military Contacts
Airforce -Technical Sergeant Lee W. Steinberg - lee.steinberg@us.af.mil - 432-352-0584
Airforce ROTC -ANGEL J. VALLES II, 2d Lt - Phoenix@afrotcadmissions.com
Army - Sergeant Giovanno Miller - 806-445-5575 and Staff Sergeant Nicholas Butler - 806-983-6173 ROTC Information
Marines - Sergeant Javier Vela - javier.vela@marines.usmc.mil - 806-681-5462
Army National Guard - Adam Longoria - 806-336-1712

Navy - Nick McMillion -806-252-3469